Day 1
Arrive in Ulaanbaatar
We will meet with you at the airport. If you land early in Ulaanbaatar, we will have city tour. On the way you can change your money while you driving to the center of the city. You will first drop your luggage at your guest house then have lunch and a city tour.
During the city tour you will see the center square of Ulaanbaatar city, called Chinggis Khaan square. Then you will visit the Mongolian national historical museum and Gandantegchinlen Monastery the center of Mongolian Buddhism. After that you will watch a Mongolian traditional concert, dancing, throat singing, and religious culture from the Tumen ekh ensemble (band of folk singers and dancers/). All day our driver will accompany you and show to you these places. After the show, the driver will bring you to your guest house.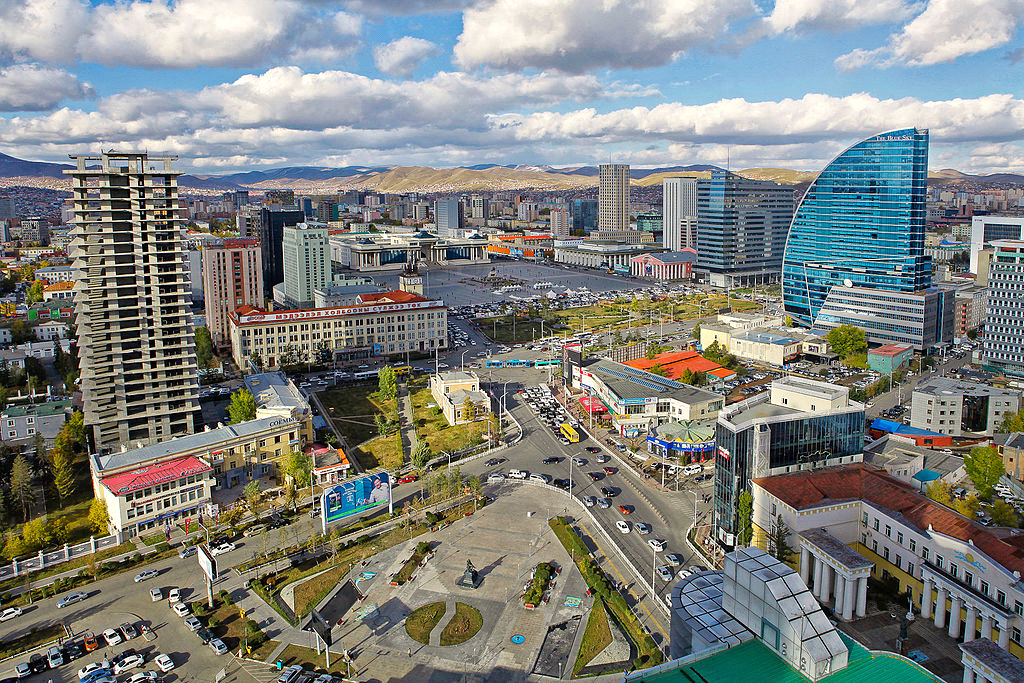 Day 2
Ulaanbaatar - Moron (800km)
On this day you will start your trip to Mongolia. At 1 pm, our driver will take you from your guesthouse to the local bus terminal. At 3 pm you will board at the local bus for the drive to northern Mongolia. This is 12 hours of driving for 800 km to Moron, city of Huwsgul aimag. Before you leave Ulaanbaatar you can have lunch and dinner will be from local restaurant and bus will stop at the restaurant in the middle of the road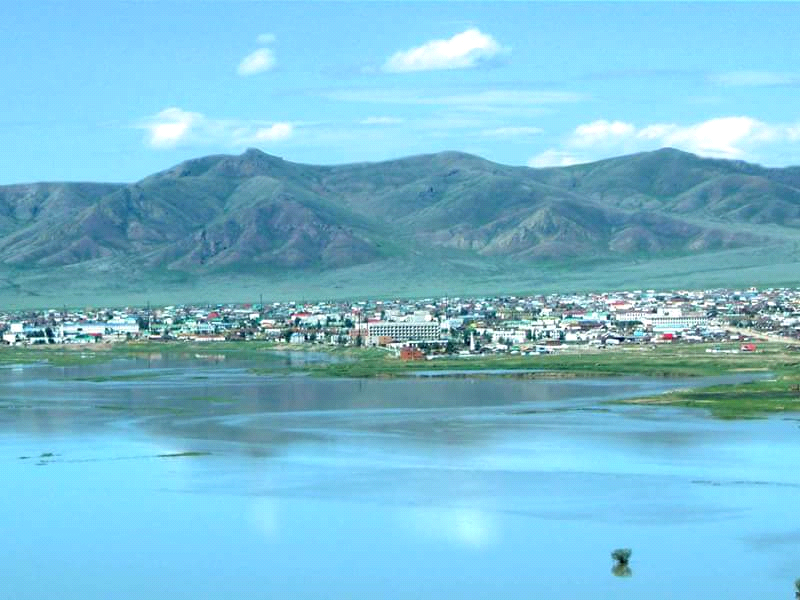 Day 3
Moron - Tsagaannuur (280km)
In Moron town, you will meet with your next driver who will bring you to your first nomad family. You can leave your luggage in the car and walk around Moron town to see the container markets. Also, you can go to a restaurant for lunch. Later, you will drive to the village of Darhad and Tsaatans. This 280 km on the bumpy roads. In the middle of the road, your car will stop for dinner. It will take around 10 hours of driving to the Village of Tsaatan and Darhad, called Tsagaannuur soum.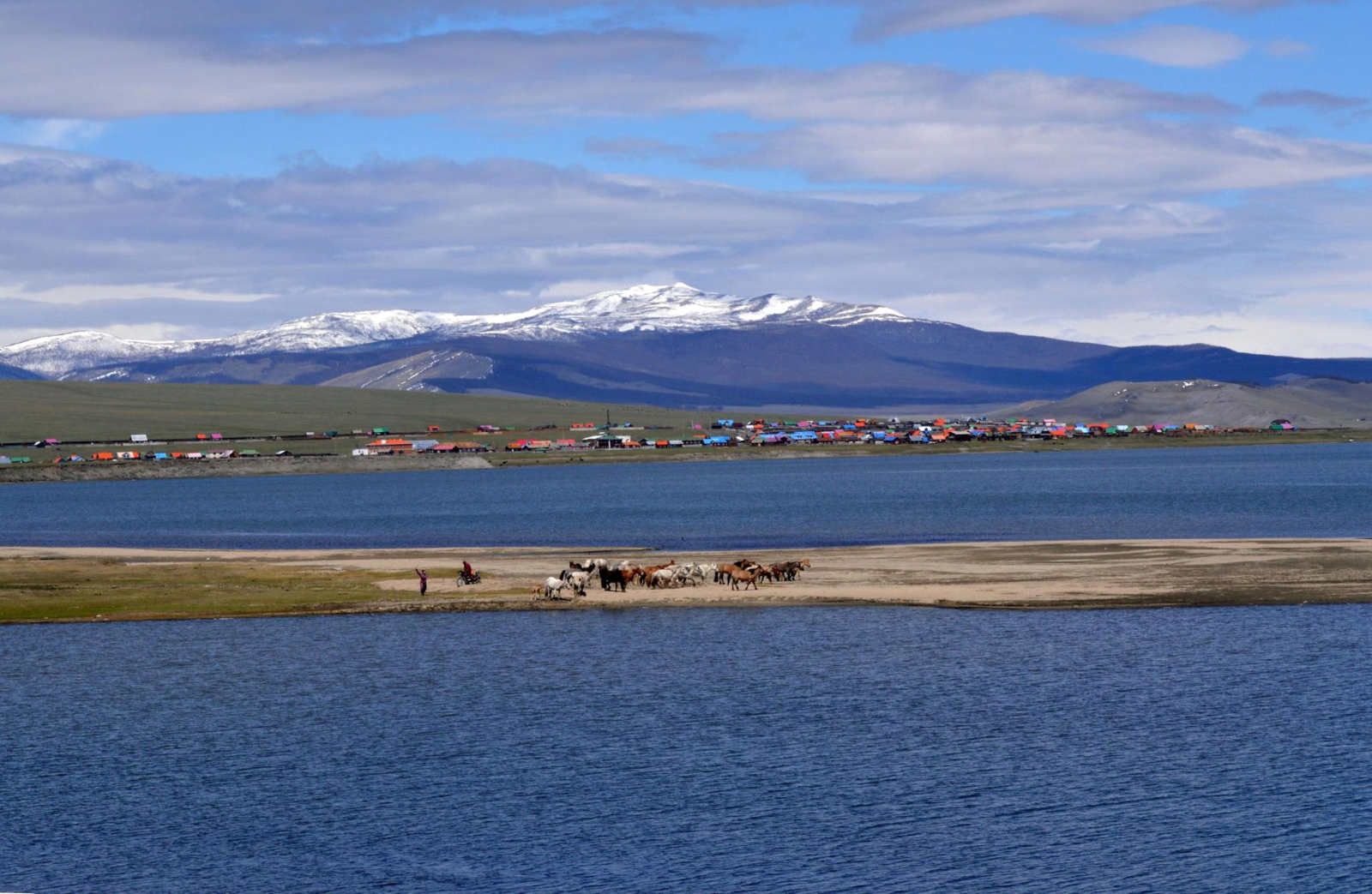 Day 4
Tsagaannuur - Nomad family (25km)
Next morning you will meet with the patriarch of your first nomad in Tsagaannuur soum. His name is Otgondalai /PUBG/. He will come to you with his wife, or alone. You will be able to rest a bit, then you will go to the nomad's home by his car, around 30 km. If you like to ride a horse you can ride a horse to the family. We can organize it by horse. After you come to the nomad family home, you will meet with their kids and their life. Your first meal will be dinner with the family! After dinner, you will sleep with family in the same Ger. Otgoo's family has 2 kids, This is a young family. Otgoo and his wife are around 30. All the seasons they move to different places with their horses, cows, yaks, sheep, and goats. A nomad's life!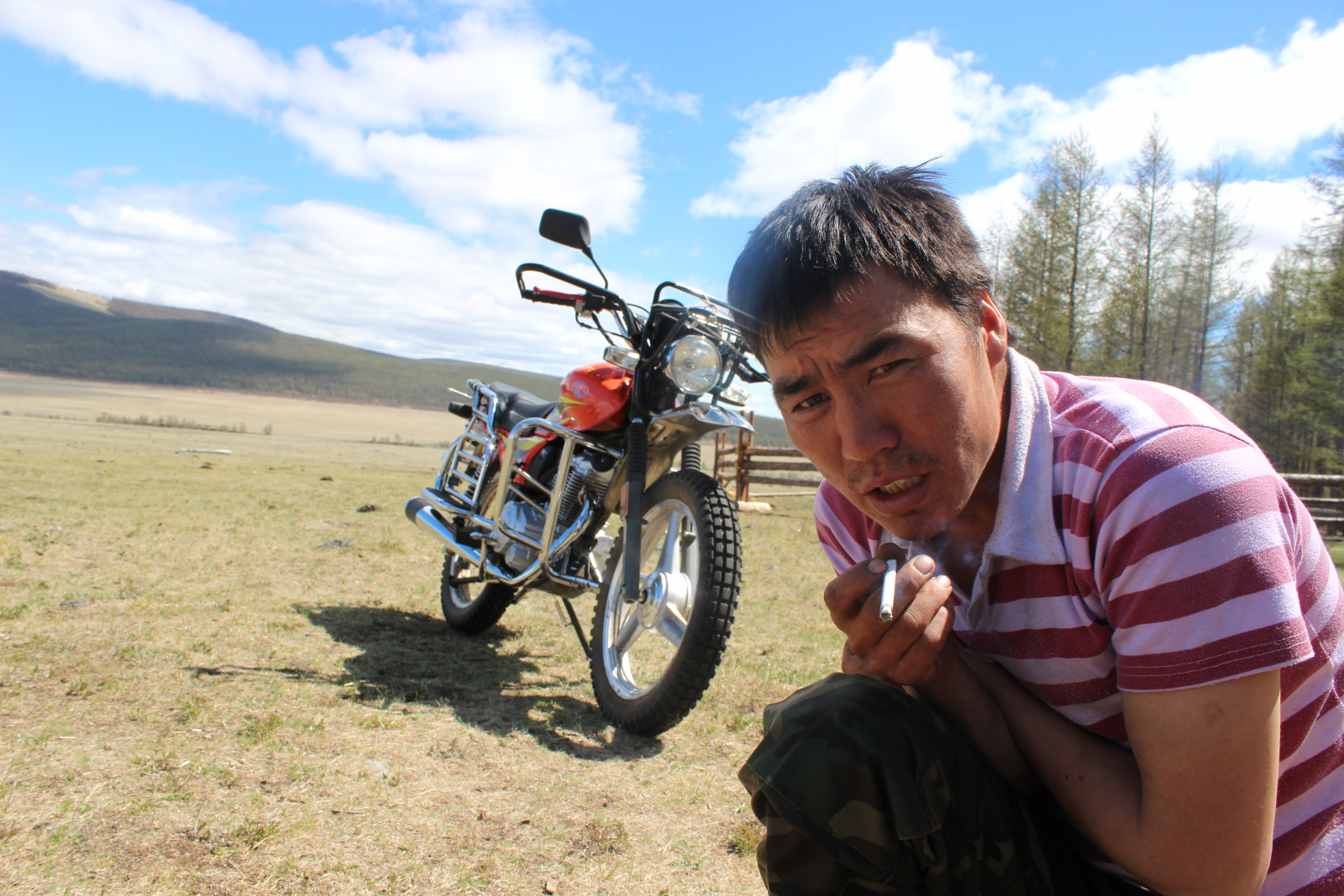 Day 5-8
Stay with Nomad
On these days you will live with the nomads, like a real member of the family. Every day you will help family herding animals. In the morning you can help the family with cow milking, herding horses, sheep, and goats, etc. Then all day you will play with them and hike around that place to take photos and enjoy the nature. Also, if you like to ride a horse, of course, you can!
Every day you will have food from the nomad family with them!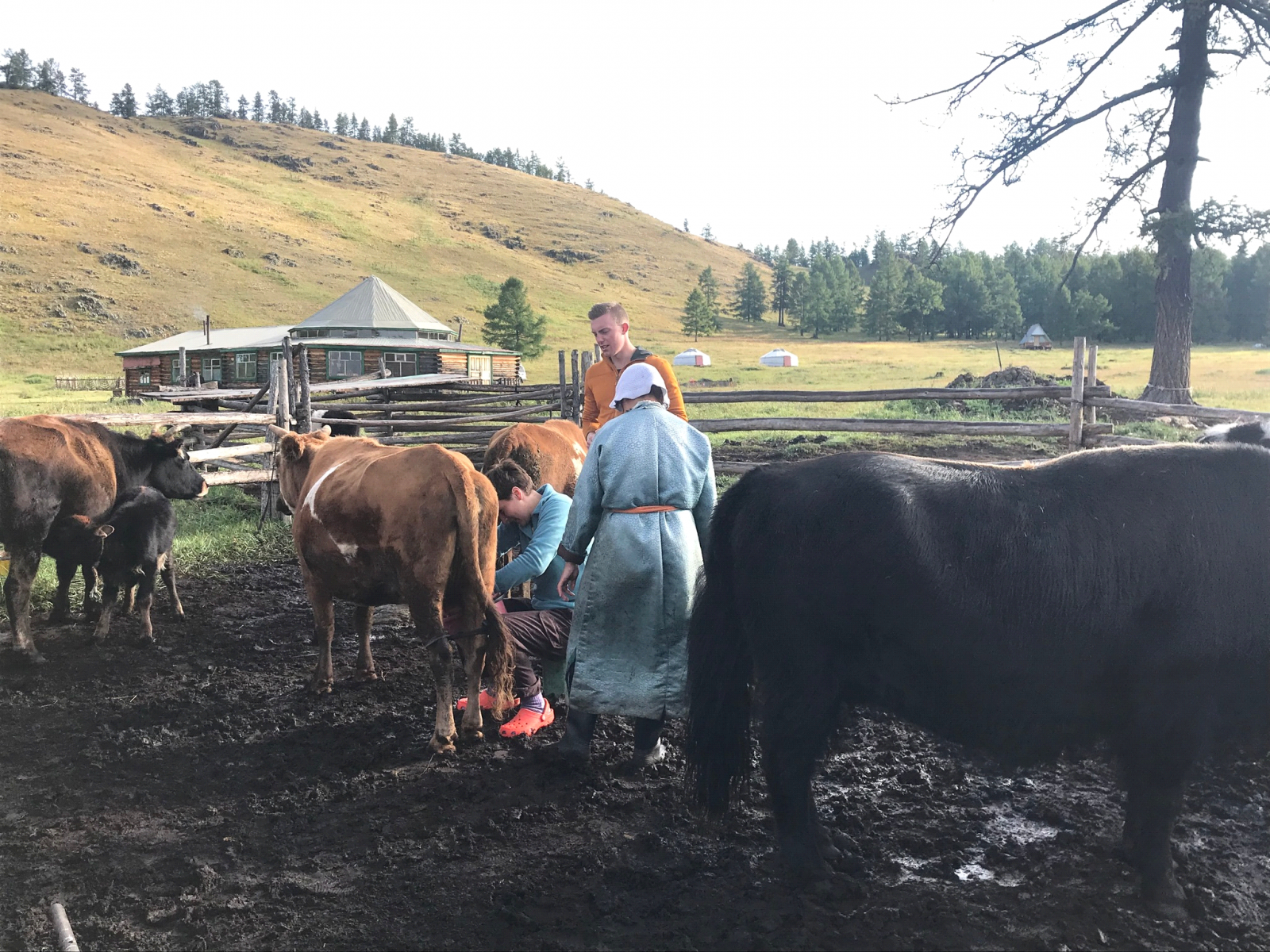 Day 9
Nomad - Tsaatan (25km)
Early in the morning, you will go meet your next family at Tsaatan's place. You can ride a horse or hike to reindeer herders with a horse guide. He will take all of your luggage on the horse then you will go together to Tsaatan. On the way, you will eat your box lunch prepared by Otgoo's family. You and your horseman will continue your trek. All-day you will have hiking or horse riding with your guide. You will travel about 25km before dinner and will visit at home of Tsaatan. All of Tsaatans live in their national house teepee. You will sleep in their tepee! The second family has 4 kids; 1 older, three younger. All the time you can play with those kids. The patriarch is Taiwaa and his wife's name is Tuwshuu. They are also young people around 33. In this family you can help with everything herd reindeer, herd horses, and prepare wood for a fire, etc... every day you will have breakfast, lunch, and dinner at the same time from each family!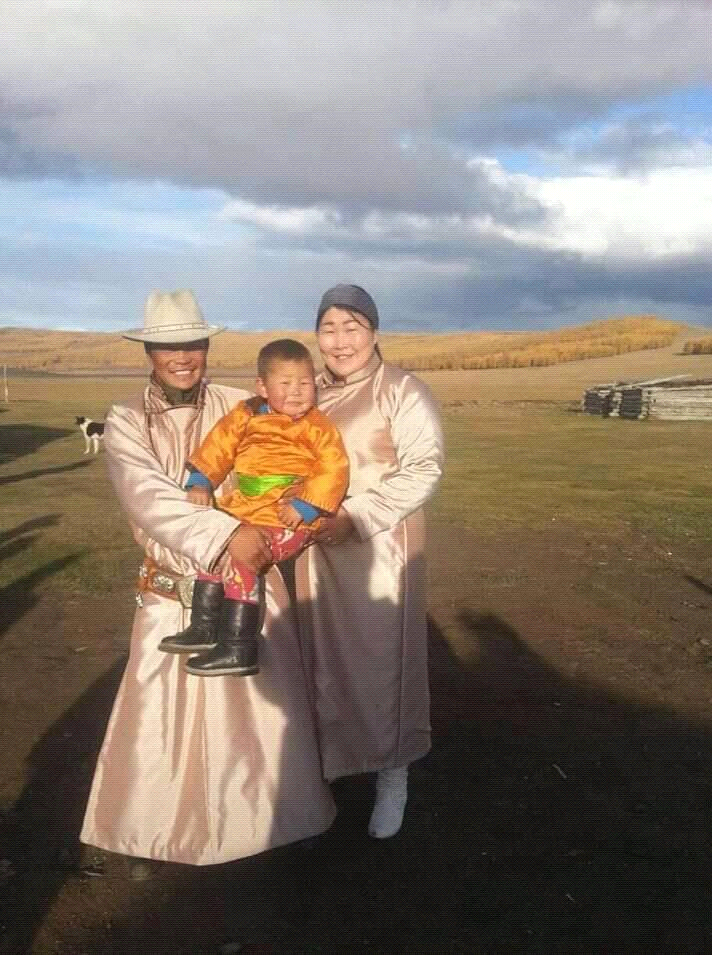 Day 10-14
Stay with Tsaatan family
On these days you will stay with our reindeer herders. This ethnic group of people are very interested in their lifestyle. You will discover a real adventure of your trip. Hiking in the mountains, herding and milking reindeer, helping the herders and families. You can also spend time with the kids and hunting dogs. This is sure to be a highlight of your trip.

Day 15
Tsaatan - Tsagaannuur (30+280km)
This day is your last day with your family. You must get up early in the morning to prepare your luggage. After breakfast, you will ride or hike to your first family. You will meet with them around lunchtime and here you will have lunch. After lunch, you can say to them "Thank you" and Goodbye. From there you will drive back to the village Tsagaannuur. The first part of the trip is about 30 km. From there you will drive to Moron city, about 280 km. On the bumpy road with local people, you can play any card game in the car. it is nice to kill the time. Your car will stop somewhere for dinner.
Day 16
Moron - Ulaanbaatar (800km)
Early in the morning, you will come to Moron city then you can go to a hotel to take a rest a bit. Then you will go to the local bus station at 2 pm. At 3 pm local bus starts from Moron to Ulaanbaatar. (If you want to change your time to leave from the hotel there is a local bus is going to Ulaanbaatar at 8 am 12 pm 3 pm 5 pm and 8 pm. You can choose when you want to leave.). It is about 800 km drive to Ulaanbaatar, almost 12 hours. your food will be the same as before from the local restaurant.
Day 17
Last day of your trip. You will arrive in Ulaanbaatar early in the morning. When you come to Ulaanbaatar, you will meet with your driver who will bring you to your guest house. Then you can take a rest in Ulaanbaatar until you are scheduled to leave Mongolia.
Day 18
This day is your last day in Mongolia. Breakfast at the hotel and transfer to the airport. Also, the transfer can be organized at the time you want, according to the schedule of your flight. Thank you for you traveled with us
HAVE A GOOD JOURNEY AND SEE YOU SOON
Included
Transfers airport / hotel / airport
2 nights hotel in Ulan Bator, breakfast included
Bus tickets
Water
Two weeks with nomad families
Hotel in Moron
Food from nomads
Horse riding
Local guides for the treks
Entrance fees for the parks and museums indicated in the program
City tour tickets
Equipments for horse riding (saddles, bridles etc…)
Not included
International flight
Passport and visa fees
Travel insurance
English or French speaking guide
Extra drinks / alcohols/ some special coffee etc…
Food on the way
Meals in Ulan Bator
Phone calls
Any excursion that is not indicated in the program